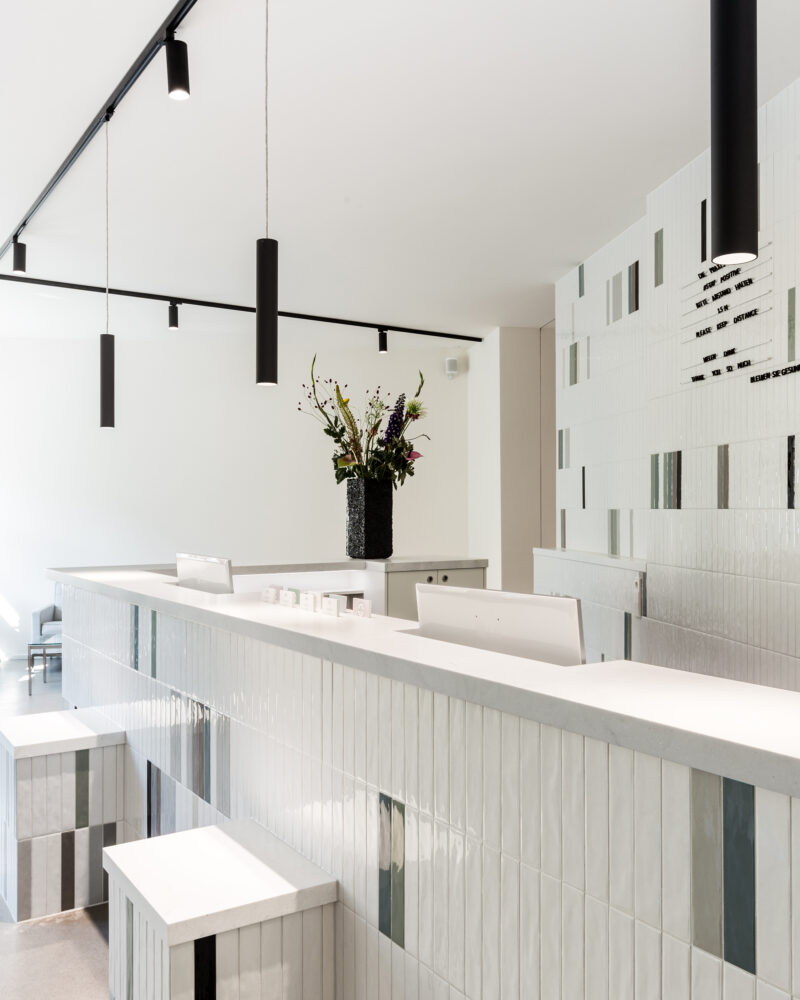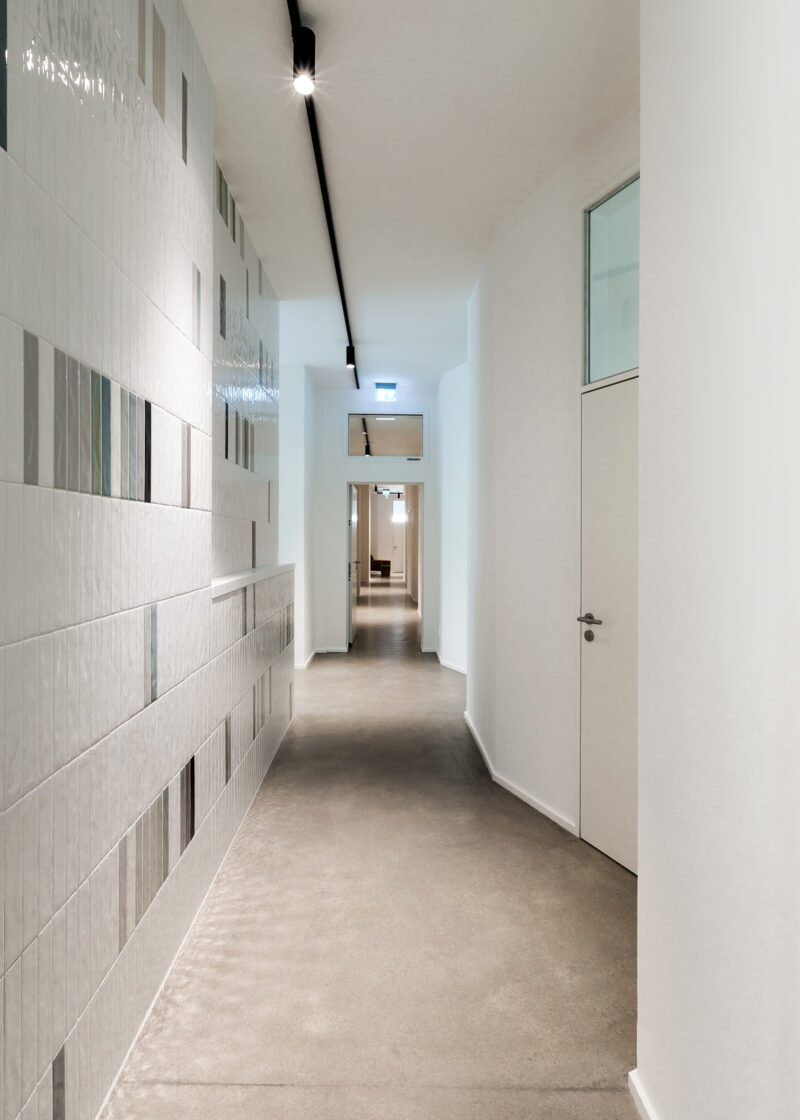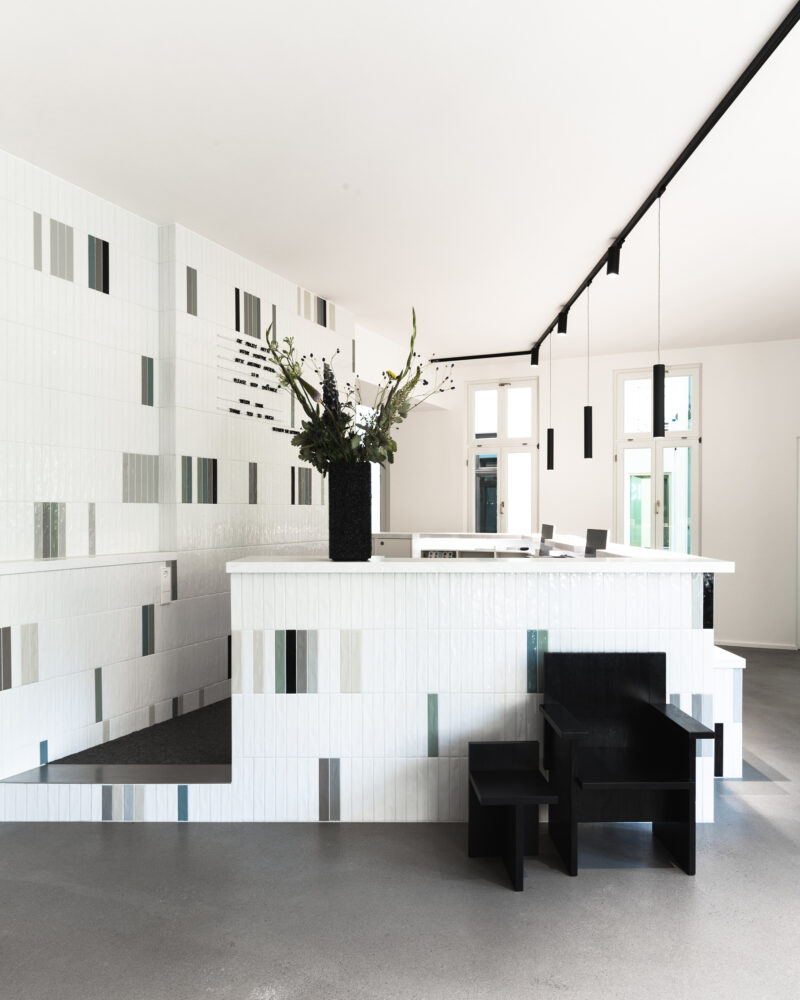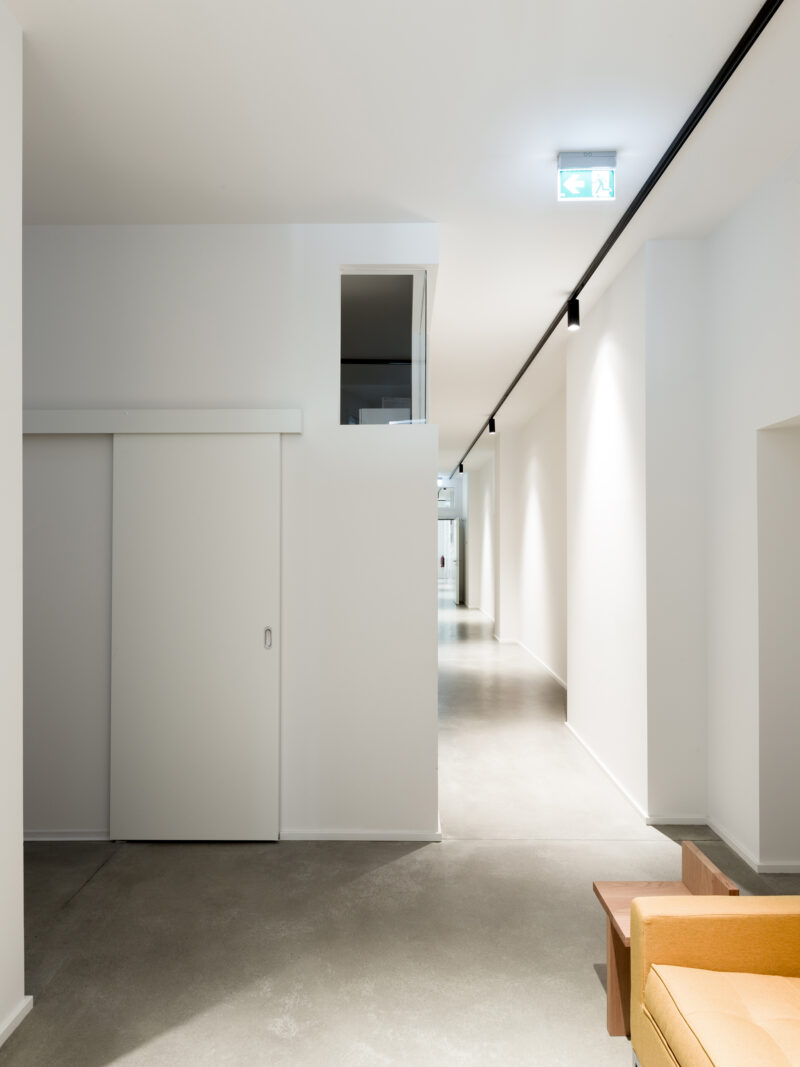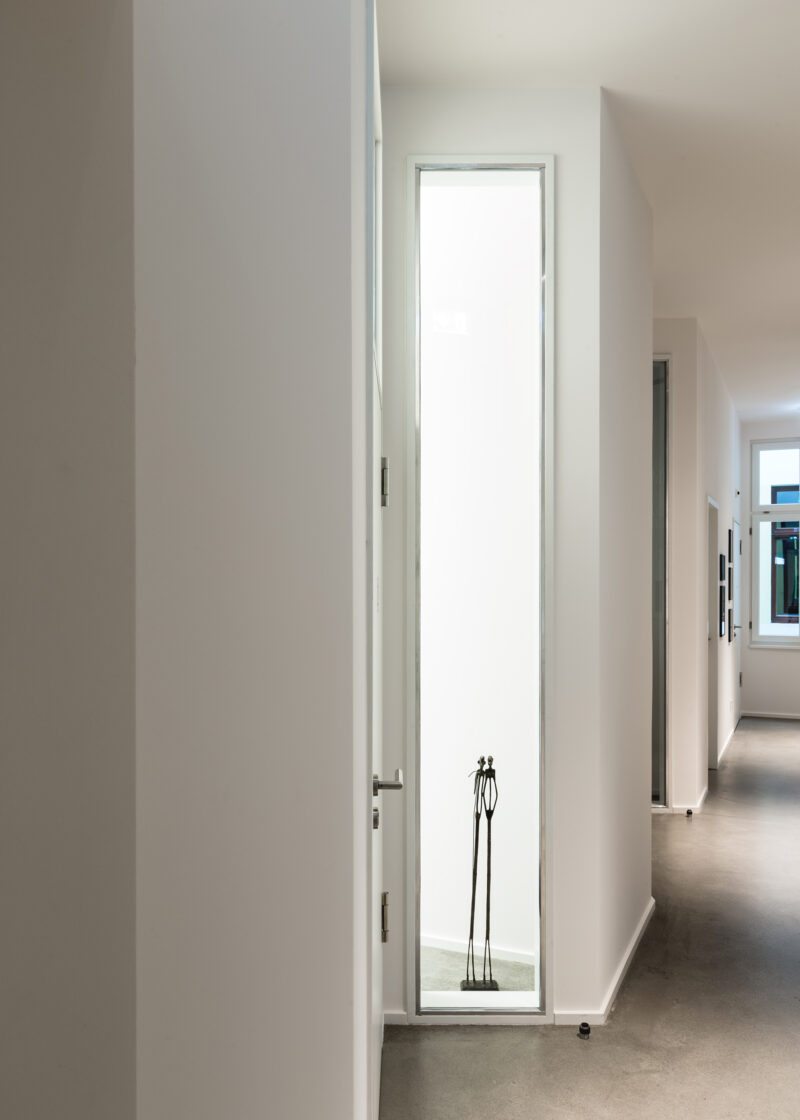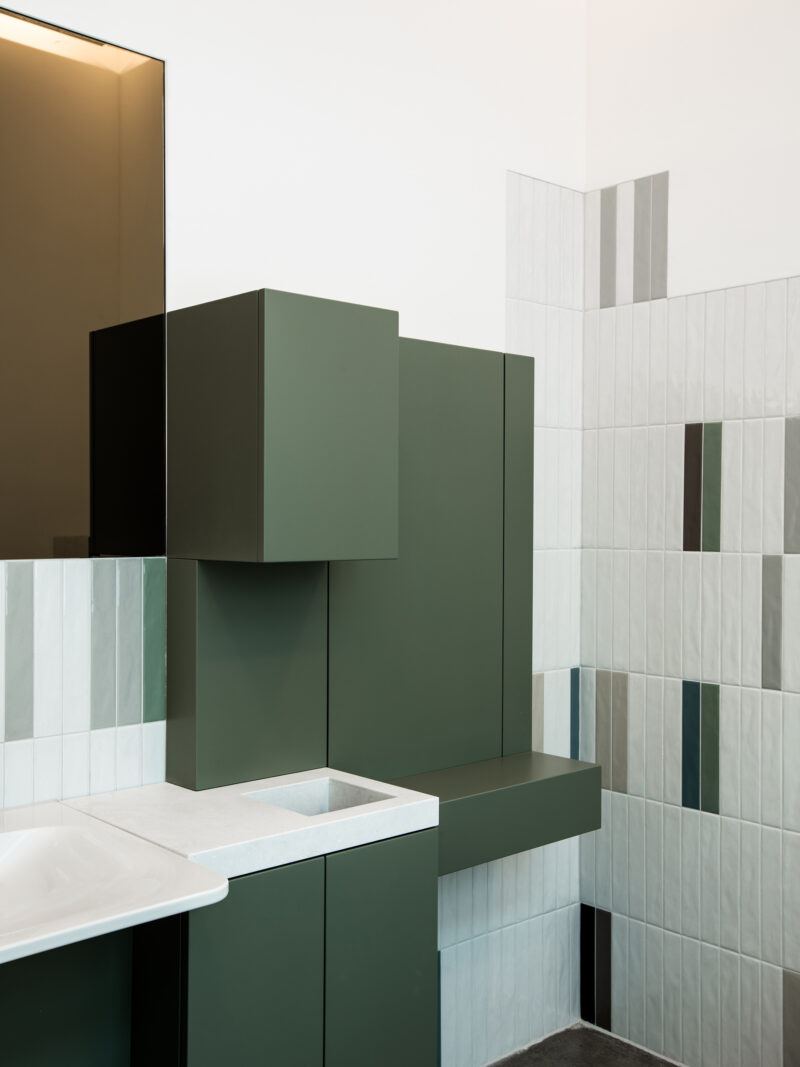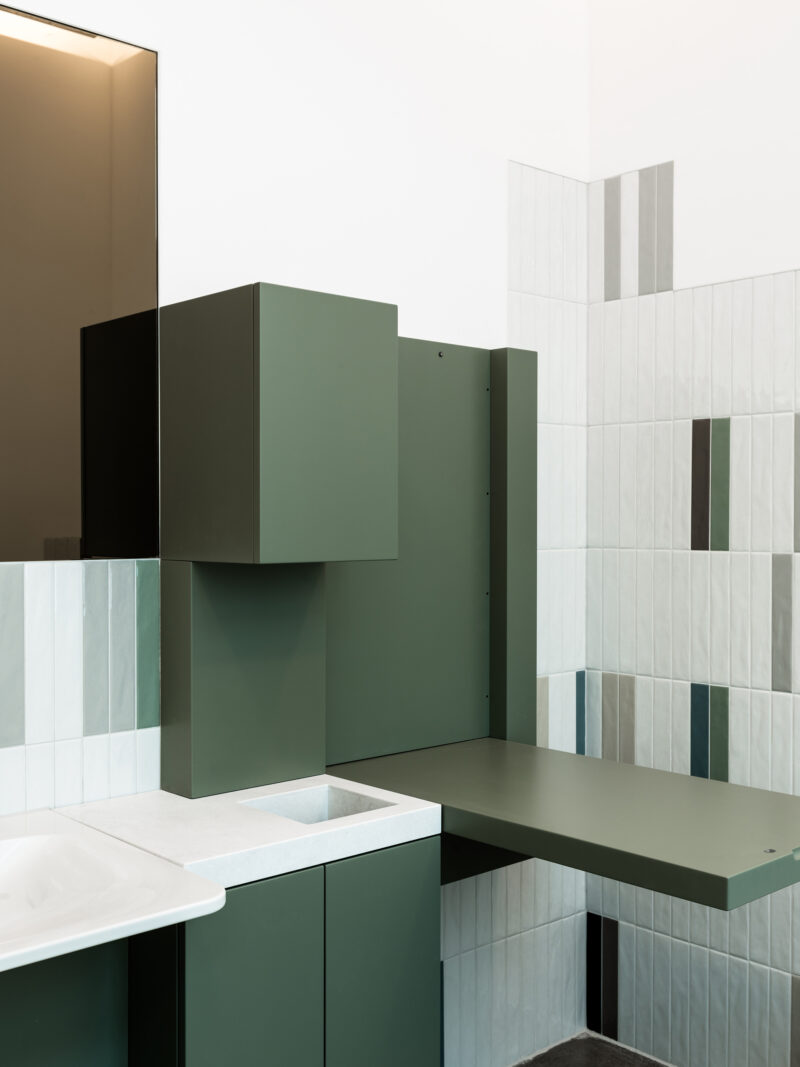 Die Praxis – Dental Practice, Office, Berlin, Mitte, Germany, 2020
Die Praxis is a female owned and run Dental Practice in Berlin, Mitte on Münzstrasse, which now after an exciting renovation fills the first floor of a vernacular Altbau construction with views to the street and two courtyards. The 440m2 space, which had previously been a Doctors office, needed an entire new plan taking into account dental-specific technical requirements for dental stations, office rooms, fabrication labs, technical rooms, a kitchen and break room, as well as functional bathrooms which do not neglect the needs of women or men with children or people with disabilities.
Through a series of meetings, discussions and sketches, Die Praxis took form following an initial concept, which abstracted the bright shiny smile. White semi-irregular glossy tiles sculpturally form a reception counter for office management and greeting patients. The reception is integrated with an existing structural wall, forming a raised platform with a white terrazzo-like counter and two protruding small white tiled boxes for setting down a purse or backpack. Because not all teeth are perfectly white and shouldn't be, the reception station includes asymmetrically placed off-white colors to give character and reprieve. The tile concept flows into the water closets, but in this case they are integrated into the walls creating a contrast from smooth plaster wall finishes to lightly textured glossy white and colored tiles with sculptural like cabinetry that hides services like, soap dispensers, hand-towels, trash and a baby-changing station.
Patients are led into a generously proportioned corridor with an off-center lighting installation where dental room entrances form three-dimensional diagonal coves alluding again to teeth. These diagonal coves or gaps, not only support the abstract concept of smiling, but they create niches for door swings, which prevent circulation interruptions. With the addition of angled internal glass openings, natural light can flow and glow into the paths of circulation, which are normally neglected.
Die Praxis dental practice space is a design and execution of restraint. It was developed from four different materials. The floor is polished cement and together with white plaster walls the space retains a clear identity and lightness. Through internal glass openings and glossy tiles, a subtle accent adds a bit of color, contrast, light and shine. It was our intention that you arrive and leave with a smile, going to the dentist no longer needs to be depressing.
Architect: ALLEN KAUFMANN BERLIN
Photography: Ann Katrin Warter